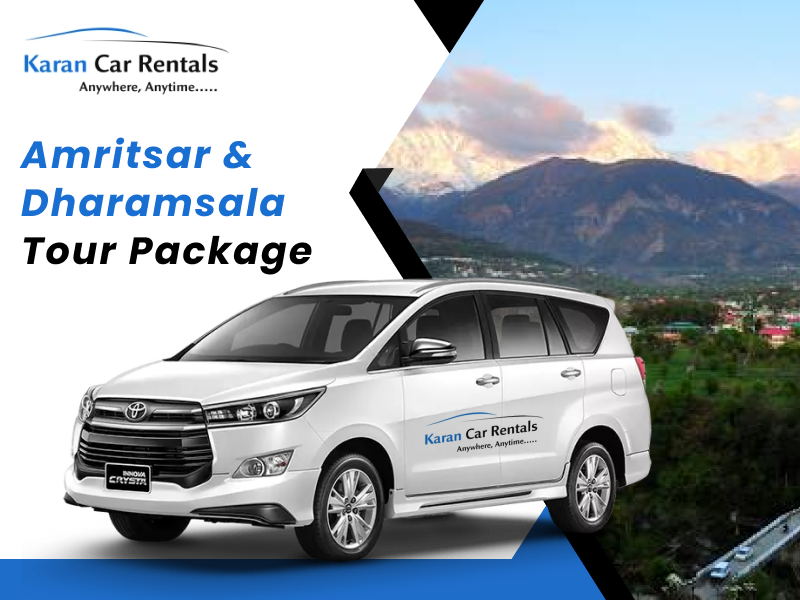 DAY 1 - Arrive at Amritsar Station or Airport, and proceed for Dharamsala, The High snow-clad Dhauladhar ranges form a magnificent backdrop to the hill resort of Dharamsala. With dense pine and deodar forests, numerous streams, fresh, healthy air, attractive surroundings, and the nearby snowline, Dharamsala has everything for a perfect holiday. It is full of life and yet peaceful. The headquarters of His Holiness the Mcleodganj Dalai Lama are at upper Dharamsala. The charming church of St. John in the wilderness is situated here, and this is the final resting place of Lord Elgin, a British Viceroy of India during the 19th century. There is also a large Tibetan community who have made this place their home. Numerous ancient temples like Jwalamukhi, Brijeshwari, and Chamunda lie on the plains below Dharamsala. Overnight at Dharamsala.
DAY 2 - Dharamsala to Dalhousie (05hrs.) After a ravishing breakfast check out from the Dharamshala hotel. We move on to our next destination Dalhousie - a famous hill station in the lap of Himachal Pradesh known for its rich colonial architecture and preserves some of the beautiful churches, St. John's and St. Francis' church. Dalhousie has emerged as one of the favorite hill stations of India. It is famed for its splendid beauty and salubrious climate. Away from the hectic life of cities, the tranquility of this place will take your heart away. This fascinating hill station is at a height of 6,460ft above sea level. A semblance of Tibet culture has added an exotic touch to this serene destination. Spectacular forest trails, waterfalls, and springs make this place all the more astonishing. The Mall road is a good place to shop for Himachali shawls, woolens, Tibetan handicrafts, and traditional jewelry. Arrive at the hotel, freshen up and enjoy your evening in the midst of snowcapped peaks with a hot cup of tea with your partner. Overnight at the hotel.
DAY 3 - Dalhousie - Local Sightseeing After a savory breakfast we set out for a local sightseeing tour of Dalhousie. The major attractions include Panchpula, a waterfall, and an amazing picnic spot in Dalhousie, surrounded by a cover of fresh, green pine and deodar trees, The spot where five streams come together. A Samadhi is built near Panchpula in memory of a great revolutionary, Sardar Ajit Singh (Uncle of Martyr Bhagat Singh), who breathed his last here. Moreover, the pristine water is best enjoyed during monsoon when the water gushes down the falls and the surroundings leave you stupefied. St. John's Church holds the historical significance of being the first Church to be built here. Located in the middle of lush green landscapes and pine valleys, the church is the main attraction of Dalhousie. Subhash Baoli is a picturesque site surrounded by majestic trees and snowcapped peaks, named after Subhash Chandra Bose, the famous Indian freedom fighter, who had spent a lot of time here meditating. Bara Pather is a famous temple in Dalhousie, located amidst the quiet and pristine surroundings of Chamba Valley is dedicated to Bhulwani Mata. Overnight stay in Dalhousie.
DAY 4 - Dalhousie to Amritsar (05hrs.) Checkout from Hotel after breakfast and then we drive to Amritsar by Road. Amritsar (also called Ambarsar) is a city in the northwestern Indian state of Punjab. At the center of its walled old town is the gilded Golden Temple (Harmandir Sahib), considered the holiest gurdwara, or religious complex, of the Sikh religion. It's at the end of a causeway, surrounded by the sacred Amrit Sarovar lake, where pilgrims bathe. Amritsar has all the makings of a well-rounded tourist destination; its ancient legends, historical monuments, places of worship, old bazaars, theatre traditions, and colorful festivals all serve as a window to its robust past. Overnight at Amritsar
DAY 5 - Amritsar - Wagah Border - Amritsar Today after breakfast day is free for shopping and later visit Indo-Pak Wagah Border to watch the Flag Retreat Ceremony- Wagah, an army outpost on the Indo-Pak border 30 Km from Amritsar where the daily highlight is the evening "Beating the Retreat" ceremony. Soldiers from both countries march in perfect drills, going through the steps of bringing down their respective national flags. As the sun goes down, nationalistic fervor rises, and lights are switched on marking the end of the day amidst thunderous applause. Overnight at Amritsar, Due to Covid Wagah Border might be closed so check with our representative before using this itinerary.
DAY 6 - Amritsar Hotel day free at your own evening transfer to Amritsar Airport / Railway Station.