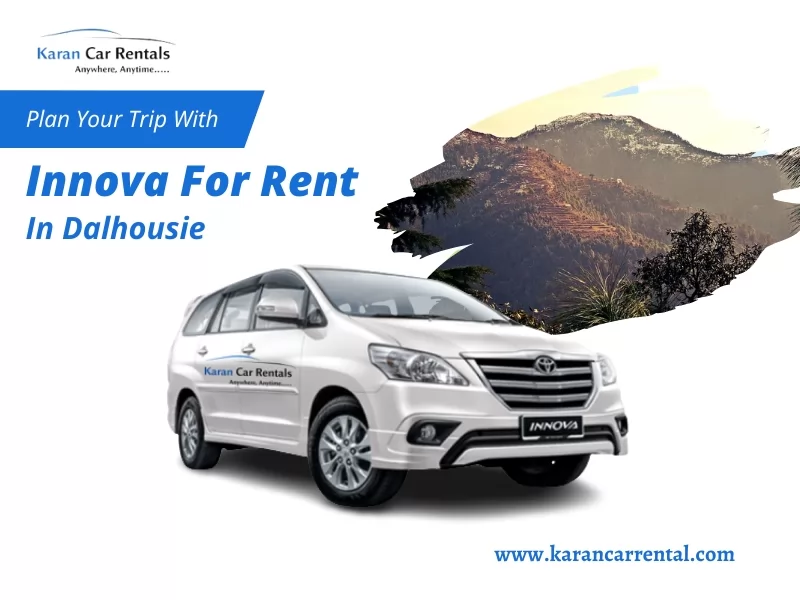 Innova for Rent in Dalhousie
Innova for rent in Dalhousie is a service for luxury Toyota Innova Car hire or Innova Crysta cars on rent in Dalhousie at a low cost. Hire Innova in Dalhousie for a local city commute with Karan Car Rental. Call us for hiring Innova in Dalhousie and get the best car service in Dalhousie. Book Innova on rent for local Dalhousie city commute and intercity transfer from Dalhousie at affordable cab prices in Dalhousie. KCR provide Innova rent per km rate which is affordable, the minimum starting price for renting Innova in Dalhousie is INR 15 per km.
Renting Innova for your special functions and occasions is a smart idea. Innova is considered the perfect car for small groups of passengers. Innova is an ideal car for luxury travel experiences. Innova car provides ultimate comfort and luxury to its passengers. Hire Innova for rent in Dalhousie through our website to experience hassle-free booking.
Innova Car Rental in Dalhousie
Are you a business traveller or want to commute from or to Dalhousie and looking for a full day and half day cab/car hire service? We promise to provide smooth and luxurious outstation travel as a good Innova car rental service. You can make the most of your trip using Innova taxi hire and car rental in Dalhousie. Book Innova car rental service in Dalhousie at a low cost Innova car hire service on Karan Car Rental, we offer taxi service in Dalhousie and Cab Hire in Dalhousie at the best price. KCR is the cheapest car rental in Dalhousie with the widest range of rental fleet of vehicles with experienced and courteous taxi drivers or cab operators.
Innova per km Rate for Outstation in Dalhousie
Sometimes you have a hard time deciding on a budget for outstation trips. You have to decide between high budget trips or low budget trips. We Introduce a new way of pricing outstation trips in Dalhousie by helping a customer compare rates for trips over different distances and different vehicle types.
The Innova service is the best available option for those looking for Innova in Dalhousie. This is a very fuel-efficient car. The Innova runs at the best Innova rate for outstation in Dalhousie. You will get the best Innova packages for outstation tours in Dalhousie if you hire Innova services from www.karancarrental.com.
Innova Taxi Rate in Dalhousie
| | | | |
| --- | --- | --- | --- |
| Innova Rental | Capacity | Innova Taxi Rate per km | Cab Price* |
| Toyota Innova | 7 seater | Starting at INR 13 | Rs. 1,950 |
| Innova Crysta | 8 seater | Starting at INR 18 | Rs. 2,700 |
Reserve Innova Crysta for Rent in Dalhousie
In the present time, we are living in a very fast-paced world. Owing to hectic schedules, we often find it hard to do the day-to-day chores. Innova Crysta for rent in Dalhousie comes as a boon in such situations. Get the economical rate for hiring Innova Crysta and Toyota Innova in Dalhousie. Innova Crysta is the most economical and spacious to travel in a comfortable way. Call luxury car rental service in Dalhousie to rent Innova Crysta in Dalhousie via the Innova taxi booking phone number +91-9517006009.
Innova Cab Booking Online in Dalhousie
Innova is demanded car for rental basis because it is a spacious and luxurious vehicle. Karan Car Rental offers Innova cars for rent and Innova taxi service at budget-friendly cab prices. Reserve Innova Crysta or Toyota Innova online in Dalhousie. Innova cab booking service is the best rental service in Dalhousie from Karan Car Rental which allows you to book a can at your doorstep to your preferred destination at the lowest charges on cab hire.
Toyota Innova 7 Seater on Rent in Dalhousie
Renting an Innova Crysta is one of the most luxurious and popular ways of travelling. Style, safety, and comfort are all present in this vehicle. The best part is that it can be done with friends and family. Whether you are planning a group tour or a business meeting, this is an ideal option. The Innova is a good choice if you are planning to go outstation. It's a stylish, reliable vehicle that's sleek and stylish. You won't find a better deal anywhere else. Your trip will be more affordable because you'll have more money to spend. Get the best price on Toyota Innova 7 seater on rent in Dalhousie.
Toyota Innova 8 Seater on Rent in Dalhousie
Toyota Innova is the best car for economical and comfortable trips. In Dalhousie, Karan Car Rental offers Toyota Innova 8 seater on rent at affordable Innova charges in Dalhousie. You can rent Innova for weddings, airport transfers and railway station transfers at the best price.
Dalhousie Airport Drop Innova Car Hire
Book a sightseeing tour of Dalhousie to visit popular tourist places in Dalhousie for enjoying with your family or group. You need to book a car from Dalhousie Airport for your local and outstation trips. We offer popular tour packages with amazing tourist attractions around Dalhousie. Dalhousie Airport Innova drop will let you book Innova at the lowest cost in Dalhousie.
Dalhousie Innova Cab Booking Contact Number
In today's time, the taxi service has become vital for businesses, hotels, and even homes. Having a car means that you can take your guest to the place they want whenever they want. You do not have to worry about parking or the distance. You can just sit in the car, relax and feel the breeze out. There is a number of Innova taxi service providers in Dalhousie, find via Innova cab booking contact number +91-95170-06009.
Innova Crysta Rent in Dalhousie
When thinking about renting a car, people usually think of having a big, luxury car. That's because they associate big car brands with a lot of comfort and class. However, there are plenty of smaller car brands that are just as comfortable as the others. If you're looking for a good, quality car, then check out the Innova Crysta from the Toyota Innova in Dalhousie. Figure out the cheapest Innova Crysta rent in Dalhousie only at Karan Car Rental.