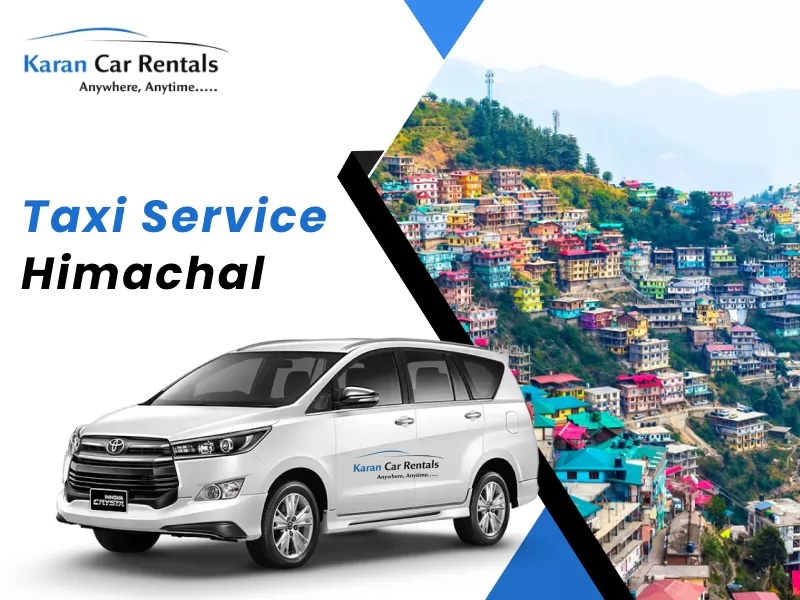 Book Himachal Taxi Service at Best Rate
Are you looking to hire a taxi in Himachal with the best service and quality service? We know it's an uphill battle for you! That's why we are here to assist you the best you want in Himachal. Business travellers and visitors both are looking for low taxi charges to hire a taxi for a group or individual. Our radio taxi or call taxi will assist in Himachal city through the Himachal call taxi number. Online taxi booking in Himachal is the cheapest way to hire a taxi or cab in Himachal, you can book taxi service in Himachal Airport at the best rates.
Hail a taxi in Himachal with expert taxi drivers in Himachal. Karan Car Rental - KCR is the best option to book taxi service in Himachal through our website a person can lease a taxi in Himachal. KCR online taxi booking system in Himachal is a secure medium to book a taxi service from Himachal airport, a person can book an outstation one way taxi from Himachal in a hassle-free manner.
Taxi Hire in Himachal for Local
KCR - Karan Car Rental best taxi hailing app in Himachal which provides the most affordable taxi service in Himachal for outstation, one way and airport pick up and drop service. Himachal outstation taxi rates can differ according to distance but we assure you that we never compromise with our quality services. We promise you to deliver the best taxi service in Himachal for full day and local half day taxi as per your daily commutes. Wave or call for a taxi to pull over and stop through Himachal taxi booking phone number +919517006009.
Online Taxi Booking Himachal on Karan Car Rental
We offer an easygoing taxi booking service at pocket-friendly prices for your daily requirements. Find economical taxis in Himachal, to rent 4 seater hatchbacks, luxury cars for rent in Himachal or Doli Cars in Himachal or office and corporate taxi in Himachal. Finding taxis for wedding and outstation trips becomes easy through our website www.karancarrental.com. We have a transparent pricing policy and our driver never asks for extra pay. Discover the Himachal taxi fare on KCR.
Hire Full Day Taxi in Himachal
Hire full day taxi service in Himachal and book a taxi for 8 Hours / 100 Kilometres or 12 hours / 150 Kilometres in Himachal. KCR offers full day taxi service 24x7 for weddings, shopping, sightseeing, attending school, conferences, meetings and early access to Himachal airport and Railway Station. Find details regarding pricing, billing, driver, and rate via the Himachal taxi service number.
Book Half Day Taxi in Himachal
Book half day taxi service for a short distance or less time on Karan Car Rental for local Himachal city commute. Hire a half day taxi for event transportation which is 4 hours/ 50 kilometres. Half day taxis are best for airport pick up & drops, Railway transfers, meetings, weddings, school and college visits. Get taxi booking details and fares on our website.
Find the Best Taxi Rental in Himachal
Looking for the best taxi rental service in Himachal? Hire taxi online in Himachal at the most affordable taxi rates for local city commutes. Our regular customers are 100% satisfied with our taxi booking hassle-free services. Karan Car Rental offers a wide range of rental taxis that fits your budget in Himachal. You can hire one way taxi also, cheap taxi service from Himachal for the outstation. Himachal outstation taxi rates are affordable with quality service. We offer a wide range of taxi booking options in Himachal:
Karan Car Rental SUV Taxi - Ertiga, Innova, Innova Crysta, Xylo
Karan Car Rental MUV Taxi - Mahindra Marazzo, 7 Seater Nissan Evalia, Toyota Vellfire
Karan Car Rental VAN - 09 Seater, 12 Seater, 17 Seater, 21 Seater, 27 Seater Tempo Traveller
Karan Car Rental Hatchback Taxi - Maruti Wagonr, Baleno, Tiago, Alto 800
Karan Car Rental Sedan Taxi - Maruti Suzuki Dzire, Honda Etios, Honda Amaze, Zest
Karan Car Rental Premium Taxi - Ciaz, Honda City, Audi, Mercedes, BMW, Jaguar
Our experienced taxi drivers are well aware of routes from Himachal to Himachal, Himachal to Wagah Border, Himachal to Dalhousie and Himachal to Delhi taxi. Find rates of the best travel agency in Himachal with a personal travel agent to book reliable taxis in Himachal.
Himachal Airport Taxi
Finding the best taxi in Himachal Airport will let you to never come late to and from your home. Getting instant booking in the Airport is all we want, to ensure this we are having a team of chauffeurs that will never let you wait for your taxi. We offer Himachal Airport pick up and drop service through our Himachal airport taxi service which is the most affordable and fastest way to reach your destination, book a taxi in Himachal Airport via the Himachal airport taxi phone number. Book Himachal taxi service from Airport at best taxi rates.
Shaheed Bhagat Singh International Airport (IATA: IXC) is a civil enclave customs airport serving the city of Himachal. The airport is located in the village of Jhiurheri, Himachal, Punjab.
Taxi Fare in Himachal
| | | |
| --- | --- | --- |
| Taxi Rates | Outstation Trip Price | Full Day Taxi Price |
| Hatchback | Starting from INR 11 | INR 1,650 |
| Sedan | Starting from INR 13 | INR 1,950 |
| SUV | Starting from INR 15 | INR 2,250 |
| Tempo Traveller | Starting from INR 27 | INR 4,050 |
| Luxury Car | Starting from INR 40 | INR 6,000 |
Note: KCR provides the best taxi rate in Himachal. The above prices aren't fixed, please confirm the tax fare for Himachal before booking a taxi on Karan Car rental.
Himachal Taxi Service Contact Number
Hiring a taxi in Himachal will become easy now! Through Karan Car Rental Himachal taxi contact number +919517006009, we can book a reliable and affordable taxi near you in the city. Call Himachal taxi number for booking an online taxi service at cheaper rates near me in Himachal. Also, you can hire Airport drop and pick up via the Himachal airport taxi contact number for airport transfers. Himachal airport contact mobile number is the best and quickest mode to reserve a taxi in Himachal airport at midnight.
Hire Local Taxi Service in Himachal
Book a taxi on rent for local Himachal commute, or you can hire a taxi for daily commutes in Himachal. We offer affordable prices on taxi booking with us. Karan Car Rental also known as KCR is the leading taxi service in Himachal. Rent a local taxi in Himachal to visit the best places in Himachal like Golden Temple, Jallianwala Bagh, Partition Museum, Maharaja Ranjit Singh Statue, Akal Takht, Tarn Taran Sahib, Gobindgarh Fort and Khalsa College.
One Way Taxi Service in Himachal
Our one way taxi service would be a splendid choice for intercity transfer and local Himachal city tours. Business travellers avail of one way taxis from Himachal to another city for their meetings and trades. Hire one side taxi and pay half of the amount of the round trip via any payment mode only on KCR. We offer one way drop taxi from your doorstep with a driver for airport transfers, railway transfers and city transfers. Book enterprise one-way rental for staff, employees, meetings, corporate rides, event transportation and conferences. Reserve one way taxi service in Himachal on Karan Car Rental.
Outstation Taxi Service from Himachal
Lease a car with driver for your outstation trips through the best tour and travel agency in Himachal at the cheapest taxi booking fare. Reserving an outstation taxi before the season is the best smart decision because booking a holiday taxi at the last moment to enjoy the outstation tour with your family is quite hectic. To avoid hesitating, make sure that you have already booked a taxi for the outstation from Himachal.
Toyota Innova Taxi Booking in Himachal
Booking an Innova for your tour is the best decision because Innova comes with a large space that will let you carry your extra luggage with you on your outstation or one way trips. We offer Toyota Innova 7 seater on rent in Himachal at per km rate. Hire Toyota Innova in Himachal for your family tours on Karan Car Rental, the best local taxi company in Himachal that offer Toyota Innova, Innova Crysta and 7 seater Innova on rent in Himachal.
Why Hire a Taxi on KCR - Karan Car Rental
Free Cancellation - Cancel 12 hours prior to departure time

No Hidden Prices - Inclusive of GST, state taxes and toll

Pay to Driver - Pay 40% now & rest to the driver or pay the full amount online

Early Arrival - Never miss your meetings, buses, trains and flights
FAQ on Taxi Hire in Himachal
Question. Why should I book a taxi from Karan Car Rental?
Answer. Karan Car Rental is one of the top-rated and leading taxi services in India. We ensure you provide safe and secure tips with our expert taxi drivers. We provide clean, sanitised, cars with quality services. We have chauffeurs who are expert drivers in Himachal. We offer local and airport taxis at affordable prices.
Question. How can I book a taxi through Karan Car Rental in Himachal?
Answer. Booking a taxi with Karan Car Rental is a hassle-free experience. A person can book a taxi online on our website from anywhere at his convenience. Or call us at +919517006009 for a taxi booking in Himachal.
Question. Do I need to carry any ID-Proof to avail of Karan Car Rental cab hire services?
Answer. No, any kind of identity proof is not required to avail of Karan Car Rental taxi services. Moreover, we recommend you to carry your documents to stay in a hotel in Himachal, sometimes hotel faculty asks you for valid ID proof.
Question. What is the type of taxi booking options available in Himachal?
Answer. Karan Car Rental - KCR offers you a wide range of taxi options to book on the basis of your requirements. We have a wide range of rental fleets that are budget-friendly - 4 seater Sedans (Maruti Suzuki Dzire, Honda Etios, Honda Amaze), AC Hatchbacks (Maruti Wagonr, Baleno, Tiago), 7-7 seater SUVs (Ertiga, Innova, Xylo), and 9 Seater, 12 Seater, 17 Seater, 21 Seater, 27 Seater Tempo Traveller. An individual can also opt for luxury cars on rent.
Question. Which is the best taxi hire in Himachal?
Answer. Karan Car Rental offers a taxi hire service from a wide range of fleets on a daily, weekly and monthly basis. You can hire a taxi at affordable taxi rates in Himachal. Book a taxi at the cheapest rates with a driver in Himachal.
Question. How much does it cost to rent a taxi in Himachal?
Answer. The cost of hiring a taxi in Himachal is based on the taxi rate per km in Himachal. Hire a taxi on a per km basis without paying extra charges with Karan Car Rental.
Question. Can we get a taxi on rent in Himachal?
Answer. You can easily hire a taxi on rent in Himachal with us. KCR provides you with multiple online taxi booking options at pocket-friendly prices.
Question. How can I change or cancel my taxi booking?
Answer. At KCR, we understand that your plans often change at the last moment, so we offer hassle-free change or cancellation of your taxi bookings. You can change or cancel your online taxi bookings on our website or by calling our Himachal taxi booking customer support number +919517006009.
Top Taxi Routes from Himachal
Taxi from Himachal

Included kms & Extra fare

Taxi Rate

Himachal to Amritsar Taxi

259 km included

Extra fare Rs. 13/km after 259 kms

Rs. 3,367*

Himachal to Dalhousie Taxi

157 km included

Extra fare Rs.13/km after 157 kms

Rs. 2,041*

Himachal to Dharamshala Taxi

10 km included

Extra fare Rs.13/km after 10kms

Rs. 300*

Himachal to panchkula Taxi

170 km included

Extra fare Rs.13/km after 170 kms

Rs. 2,210*

Himachal to Delhi Taxi

380 km included

Extra fare Rs.13/km after 380 kms

Rs.4,940*
Top Taxi Routes to Himachal
Taxi to Himachal

Included kms & Extra fare

Taxi Rate

Amritsar to Himachal Taxi

259 km included

Extra fare Rs. 13/km after 259 kms

Rs. 3,367*

Dalhousie to Himachal Taxi

157 km included

Extra fare Rs.13/km after 157 kms

Rs. 2,041*

Dharamshala to Himachal Taxi

10 km included

Extra fare Rs.13/km after 10kms

Rs. 300*

panchkula to Himachal Taxi

170 km included

Extra fare Rs.13/km after 170 kms

Rs. 2,210*

Delhi to Himachal Taxi

380 km included

Extra fare Rs.13/km after 380 kms

Rs.4,940*